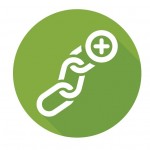 Generating quality inbound links to an ecommerce site is perhaps the most challenging component to ecommerce SEO, as well as the most essential. To compete with Amazon, eBay, and other authoritative online stores, you need a wealth influx of backlinks to help grow your rankings.
As part of our ecommerce SEO marketing services, we place a high degree of emphasis on link building. We offer a private network of 100+ blogs, directories, infomediaries, and other website that topically-relevant and strategically hosted on dedicated IP addresses as well as servers.
Unlike other ecommerce SEO service providers who build links in relentless form, we take a very mindful and natural approach to link generation. If you invest in an off-site SEO link building program, we build a complete spectrum of quality backlinks. This ensure complete transparency and naturalization of your ecommerce site's backlink profile (in addition to uplifted keyword rankings.)
Contextual backlinks from blog posts, articles, and reviews
Optimized image backlinks in static placements
Static, text-based backlinks on relevant blogs (side column links, sponsored header/footer links, etc.)
Directory listing backlinks
Blog comment links and other miscellaneous backlinks
Learn more about how a link building program can be the fuel to fire-up your ecommerce SEO strategy, and click here.